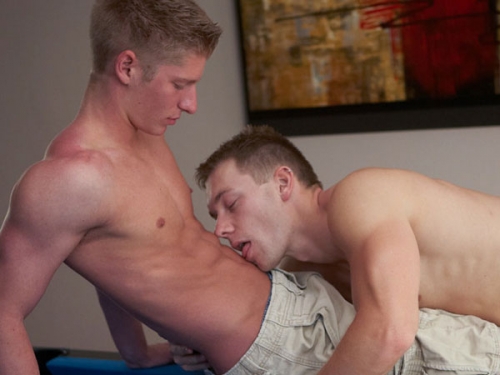 Here is a video full of firsts for Corbin Fishers' Josh. With Dawson, Josh sucks cock for the first time, gets rimmed for the first time and then Dawson gives him a hard fucking.
Josh has an amazing body, boyish looks, awesome thick cock and perfect ass and the anticipation to see Josh get a hard ramming has been pretty high amongst Corbin Fishers regular surfers since he was first introduced.
When Josh first fucked Travis in a previous video, with his huge man meat he bought him to a hands-free cumshot which, from what I have heard, is the first in Corbin Fishers history.
Dawson breaks Josh in skillfully, and from start to finish it's clear that Josh's nerves give way to intense pleasure, pure lust, and that he totally gets off on the experience!
As the guys kiss early in the action, you can sense a connection between the two. They're both excellent track athletes and have similar physcail traits.
Despite the fact that this straight stud could have laid his head back, closed his eyes, and imagined it was some hot girl giving him head, Josh's head stays propped up as he looks down at Dawson sucking his cock, eyes totally captivated and his cock getting harder and harder between Dawson's lips.
After Josh gets his first ever taste of another man's cock, he gets on his hands and knees for Dawson to prep his hole for what is to come. Josh spends a fair amount of time in this position, as Dawson rims him, buries his tongue in Josh's ass, fucks his tongue in and out, and follows it up with a finger.
One moment to watch is when Dawson asks Josh if he's ready to try for two fingers in his hole. Josh gets a surprised look on his face before finally answering, "Go for it." Dawson does just that, and soon has two spit-slicked fingers going in and out of Josh's impeccable ass.
Dawson then starts to slide his cock into Josh, first doggy-style, with Josh gripping the bed sheets; then with Josh laying face down and flat on the bed with Dawson pumping in and out of him faster and harder. Dawson has the amazing ability to know precisely when a guy is ready for the hard pounding he's capable of. By the time Dawson starts to really drive in and out of Josh, Josh's dick was revealing just how great it was all feeling for him. He also had no problem – and in fact seemed more than happy – to kiss and make out with Dawson as Dawson was fucking him.
Josh's cumshot – while on his back, legs in the air, Dawson drilling him hard – comes almost out of nowhere. Shortly after Dawson urges him to stroke his dick, Josh is shooting cum all over his tight abs and chest. I suspect Dawson had been ready to cum for awhile and was just holding himself back so that he could fuck the cum out of Josh first, as he quickly pulls his dick out of Josh's ass to shoot his own load all over Josh's abs, dick, and hand as well.
These two blond studs make for a perfect CF pairing – one the veteran teacher knowing precisely what can make a guy's first time just right, the other the new and nervous student feeling and experiencing things not only for the first time, but that never would have happened had they not found their way to CF. And the end result is pretty hot! I'm sure you'll agree.
Here is some stills from the video:-
To see the entire video take a visit to Corbin Fishers official site, and be sure to look up the video of Josh fucking Travis resulting in a hands free cum shot – it is porn gold.