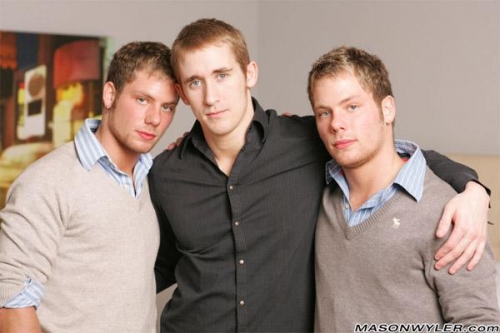 After discovering the tanned and toned Hungarian studs, the Visconti Triplets the other day, I have developed a slight obsession with trying to find other gay twins on the web who do porn. My search led me to the web site of the blonde and alluringly innocent Mason Wyler who recently did a scene with the gorgeous Studding twins. The studding twins have a swimmers build, olive skin, seductive hairy chests and pierced nipples.
You can tell by the look of ecstacy on Masons boyish face that he is in heaven. The kinky twins give him a double dose of identical cock and balls deep into his mouth. From one hard shaft to the next Mr. Wyler then dives face first into a nice hairy ass.
The scene gets sexier than ever, especially at the end when the young twins blast duplicate loads.
Click Here to watch some videos of  Mason doing some cock gobbling with the Studding twins.
Visit Mason Wyler's Official Site – to see what other sexual hijinks Mason has been up to.